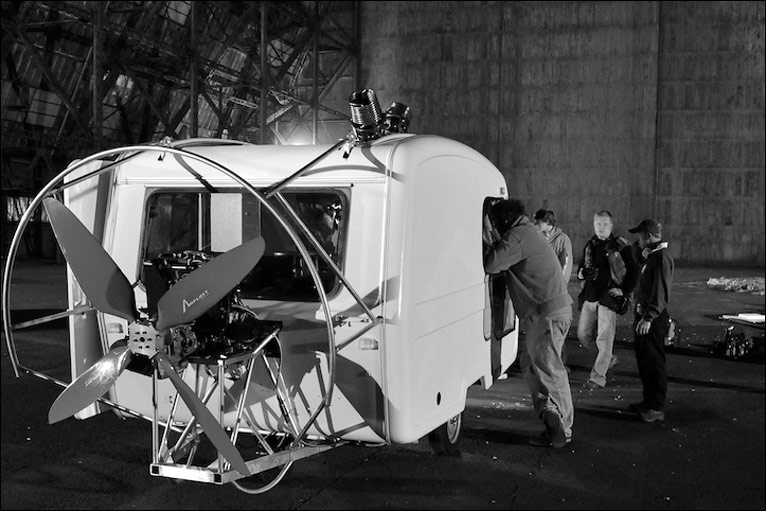 An interesting and unusual project. Working with Lindstrand Hot Air Balloons Ltd, we were commissioned by the BBC Top Gear production team to build a caravan-airship.. as you do. This was a very technically challenging project. When in ground mode the caravan needed to look like a regular caravan. When in flight mode it had to pass the scrutiny of the Civil Aviation Authority as it was an actual certified aircraft.
We took an off-the-shelf caravan shell and fitted it around a welded aluminium space frame. Composite honeycomb panels were used for the floor and other areas, so underneath the GRP caravan shell it was an aerospace grade construction. All of this was necessary to ensure the very critical weight targets were met whilst providing sufficient structural strength for all flight loads and stipulated crash conditions (which, if you watch the film, was proven to be rather useful..)
Computer Aided Desin and analysis was vital enabling the mass of technical problems to be efficiently overcome in the short time frame, composite construction, aluminium welding, 6 MW propane burner systems, a 4 stroke powered air fan, a 2-stroke Rotax propulsion system, flight electronics.. and on and on, and all against a formidable time line. Total insanity really, but it was a lot of fun working with James May and the Top Gear crowd and it would be fair to say our pride in the technical achievement was at odds to the silliness of the venture.
As the Top Gear challenges became ever more outrageous, there was a growing cynicism (especially from certain sectors of the press) concerning the honesty and legitimacy of these stunts. For sure, there was a certain amount of artistic licence in constructing the narrative of the story, but I can vouch that this caravan-airship was both a fully road worthy towable caravan AND a CAA approved thermal airship which flew (very slowly) a number of times with James May bravely on board. It was also the first, and quite possibly the only, airship to fly out of the awe inspiring Cardington Airship Hanger under power. Admittedly, it didn't quite make it through the open hanger doors unscathed, but that's another story.
Given the global high profile of Top Gear, it had been hoped that this dramatic product launch would give rise to a full order book of Caravan-Airships. Alas, it wasn't to be 😉